Heartfelt Adoption Campaigns : Adoption and Fostering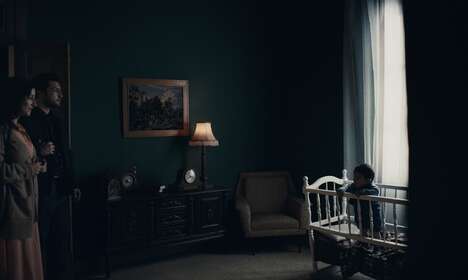 In a region where adoption and fostering are a challenge owing to cultural and social taboos and misperceptions, a furniture retailer has launched an initiative to inspire, encourage as well as help support families in their journeys to adopt and foster.
Home Centre, a furniture & furnishings retail brand in the Middle East, believes that every home has its own unique story to tell. And it has taken on topics such as Arab single moms that have never been tapped into by brands, owing to its sensitive nature in the region.
This year, starting with content around World Adoption Day on November 8, Home Centre has chosen to again address and provide support to families and homes for an untapped and unspoken topic in the Middle East, via a new initiative titled, "The Homecoming".
As part of the initiative, a short story – a moving film – titled "Falling in love", launched this December and being promoted since the beginning of this week, on the brand's social media platforms and in-store, has become the face of the initiative.
The film is an emotional visual journey that captures the couple's apprehensiveness, their joys, their anxieties, their collective perseverance as they overcome familial, societal as well as interpersonal odds to get to the goal of adopting a child. It's written based on in-depth interviews with couples who have wanted to adopt or have adopted, and their journey over the 6 to 9 months it takes to adopt.
In the Middle East, adoption and fostering as a topic and a concept isn't just frowned upon, it is actively denounced and legally it is challenging – by society, by relatives in the family (including one's parents) and by social circles.
But there is a need for it, with orphaned children owing to war and the refugee crises, as well abandoned children, present across the region.
The film aims to break those taboos and misperceptions and it is THE film that has launched a region-wise initiative to help those parents who can't have children as well as those parents who have children but want to adopt and foster, feel inspired as well as enabled to adopt and foster. It's to let them know they should and that they can.
The soundtrack that carries this film is a licensed adaption of Elvis Presley's "Can't Help Falling in Love" – and the story of the film gives an entirely new meaning to Elvis' iconic song.
Activating its purpose of giving every home its own unique story to tell, Home Centre becomes the first brand to ever talk about the controversial and divisive topic of adoption or fostering in the Middle East and in the Arab world, shedding light on the need for loving homes and caring families for the many orphans in the region.
A digital platform shares knowledge and content around the topic of adoption or fostering from a well-known psychologist and a well-reputed legal advisory firm.
The platform also provides links to organizations one can contact to learn more about adoption or fostering across the region.
Famous influencers who have adopted as well as TV shows are supporting the initiative. Additionally, a unique art exhibition will also be telling stories of children who are without a family or a home.
Check the video: https://www.youtube.com/watch?v=w4teDeViwHs
And to know more about the initiative, please visit https://thehomecoming.me
About The Author