Mental Health-Supporting Crisps : doritos bold bbq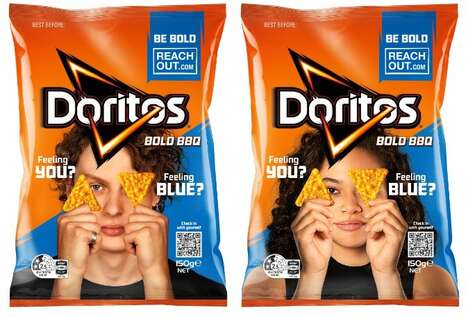 Doritos released a new limited-edition flavor named 'Doritos Bold BBQ.' This flavor was released through a partnership with 'ReachOut Online,' an Australian mental health organization that raises awareness for mental health issues and advocates for people to get help when required. This partnership marks the first-ever Doritos initiative that championships mental health.
ReachOut has a convenient online quiz that acts as a loose self-assessment for mental health. Doritos commissioned a study that found that many Australians, specifically three out of five, use the phrase "I'm Fine" upwards of 10 times a week in order to deflect from bringing up their actual feelings.
The Doritos Bold BBQ packages for this campaign feature a two-toned orange and blue pack where the orange side states "Feeling You?" while showing a person's eye, and the blue side states "Feeling Blue?" while the person hides their eye behind a Doritos chip. This is an excellent way to show how many individuals choose to hide mental health problems rather than getting help.
Image Credit: Doritos
About The Author