First-Ever Outer Space Artworks : selenian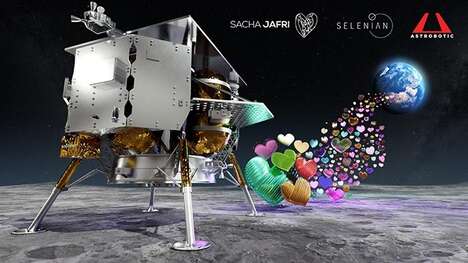 'Selenian' is a company that specializes in the curation of artwork for space. In collaboration with 'Astrobotic' and 'NASA,' the company will place a unique art installation on the Moon. The installation is titled "We Rise Together – with the Light of the Moon," and was created by a British artist named Sacha Jafri.
This art installation will fall under the NASA Commercial Lunar Payload Services initiative (CLPS) and will become an important landmark on the Moon. This art installation will not be the only payload brought to the Moon during its expedition, though, as NASA is also delivering scientific instruments and technologies for its own use. The exact details of the artwork have yet to be revealed, though Selenian has ensured the public that the materials used are resilient to the conditions on the Moon and will not deteriorate.
Accompanying this historic event is the launch of five NFTs in a collection. These NFTs will commemorate each stage of the trip to the Moon, with one NFT for each event. The stages range from the initial circumnavigation of the Earth to the final landing on the Moon. The proceeds from these NFTs will go to major charities focused on positive values such as equality, education, and sustainability.
Image Credit: Selenian, Astrobotic, Sacha Jafri
About The Author