Comical Lawsuit-Inspired Campaigns : glebe farms oatly lawsuit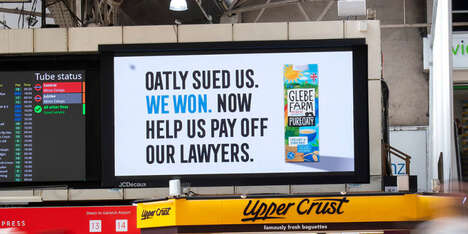 Glebe Farms has released a series of billboards after winning its legal battle with rival milk-alternative brand Oatly. The advertisements can be seen plastered throughout Victoria Station in London, England.
The hilarious ad asks the brand's supporters to help pay off its lawyers. Oatly took legal actions against Glebe Farms last year, claiming the company violated trademark infringement policies. The company claimed Glebes PureOaty products took advantage of its branding strategies by trying to pass off its products as Oatly's.
A judge dismissed the case in August of 2021. Following the case, Oatly took a significant hit. The drum reports that nearly 40% of online interactions related to the company are negative compared to just 13% before the trial.
"After winning the court case against Oatly, it has made us want to be more disruptive in our campaigns, we're known as the oat m*lk brand that beat Oatly, but we're so much more than that," said Philip Rayner, owner of Glebe.
Image Credit: Glebe Farms
About The Author